2 Corner Feeders
$50 Savings
USA Lower 48 states only
Not Available in Hawaii, Alaska or International orders..
A once a day feeder! This is the largest model we have! Round just like the other models, and can be used anywhere. In a stall, paddock or outside in the pasture…
Does NOT have to go in a corner.
Drain plug for easy clean up or when soaking hay. Holds 6 average size flakes which lasts most horses 24 hours.
Description
Corner Feeder Combo Sale!
With this offer you get TWO Corner feeders
Each Porta-Grazer™ Corner Feeder 2 pc. set includes: barrel and a the 8 hole pan which allows feeding of any and all types of hay – super fine to the coarser type from any size bale.
The patented interlocking tab system allows the pan to be secured in the barrel while still partially extended above the barrel opening allowing for more hay. For best results the hay is not fluffed, simply place the flake flat against the inside barrel wall, push down folding the flake over to the bottom – creating an arch – then line up the keyhole in the pan with the handle and drop in the pan. Takes only seconds to load!! The barrel is designed to fit perfectly into corners but can be used anywhere – inside or outside. Can easily be secured using an eye bolt and a tether of your choice. Its also free standing like all other Porta-Grazer models. Built in trough to trap sand, mold and dirt away from your horse to be discarded at your convenience.
Once a day is what you asked for and that is what you get!!!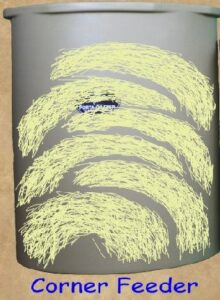 Approximate hay capacity = 9972 cu. in. = Approximately 6 average size flakes. Weight/Volume of hay will vary depending on the compaction, moisture content and how the hay is loaded.
Specifications – Rugged food grade (not recycled) polyethylene plastic, UV protected, rated to 30 deg. below zero. approx. 36 lbs empty, 28″ tall x 23.5″ wide, 3/4″ threaded drain plug.
When it comes to horses we all know that accidents can happen and that no feeder is 100% "horse-proof" however we have done our best to make the Porta-Grazer the safest feeder possible.