Historical Folger Stable located in Woodside, California uses Porta-Grazers in their paddocks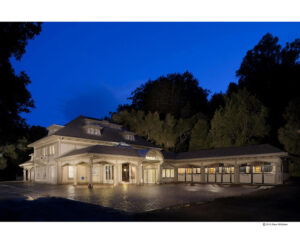 Have a boarding Facility? Want to save money, labor and time?  See what Porta-Grazer can do for you!
Folger Stable History
Folger Stable was built in 1905 by James A. Folger II of Folgers Coffee Company. He commissioned Arthur Brown Jr., in partnership with Henry Schulze, to design the estate and stables. His great-grandson, Peter Folger II, sold the stables and 942 acres of land to Martin Wunderlich in 1956. Wunderlich then donated the stables and surrounding land to the County of San Mateo in 1974. Without public funds available to preserve the main building and surrounding smaller buildings, Folger Stable fell into disrepair. In 2002, the Friends of Huddart and Wunderlich Parks established the Folger Estate Stable Committee and, in conjunction with the San Mateo County Parks Department, began renovating the stable to its original condition. In 2004, the Folger Estate Stable Historic District was named to the National Register of Historic Places. The renovation was completed in 2010 and includes a museum that was the original Carriage Room of the Stable.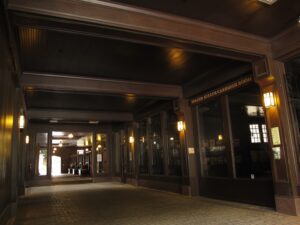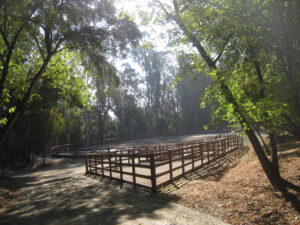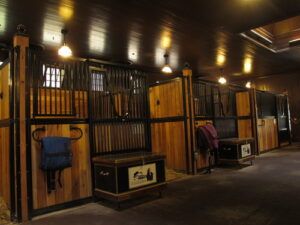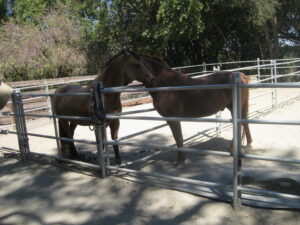 Folger Stable: boarding for Peninsula trail riders.
Located in Wunderlich Park, boarders have access to 942 acres of biodiversity.  With 17 miles of dog-less, bike-less trails. Wunderlich's all-weather trails are wide, well-groomed, and suitable for all gaits. The trails easily connect to other Mid-Peninsula parks such as Huddart Park via the Skyline Trail.
Horses live in covered stalls, either in the historic Main Barn or one of the outer barns. They receive 4 hours of turnout daily, 7 days a week and each turnout is equipped with a Porta-Grazer. Folger Stables provides twice a day feeding, blanketing and 7 days a week night supervision.
Boarders may also practice their disciplines in the groomed riding arena or exercise their horse in the round pen. While there are no trainers on site, boarders are welcome to invite professionals onto the property for private lessons.
Folger Stables is an unsupervised facility. Children under the age of 18 must be accompanied by an adult
The riding arena is open to the public with a free membership.