Visit our catalog to see the fall specials!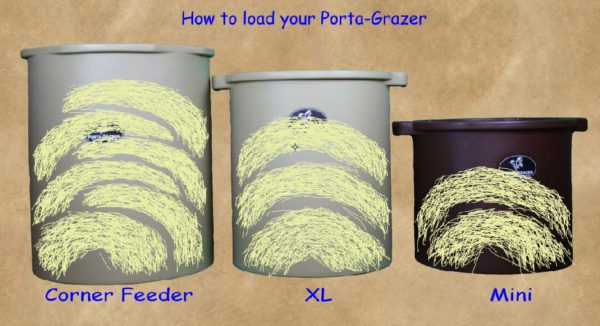 Available in 3 models
All Porta-Grazer models are portable, round and have a drain plug. All models can be used anywhere-inside or outside.
Porta-Grazer™
Second Only to Nature
Approved, Owned and Sold by Veterinarians and Equine Dentists!
Porta-Grazer provides natural head down grazing when pasture is not an option!
Shipping to select areas in Canada!

Office Hours
Mon-Fri 8-330  Mountain time
CLOSED- Evenings, weekends and holidays.
Any emails, phone calls or orders placed when closed will be processed the next business day.

Porta-Grazer™ Prevents & Treats Many Digestive Ailments
Ulcers  , Sand Colic , Impaction Colic ,  Laminitis / Founder , Weight Control,  TMJ,  Bad Stall Habits such as chewing wood, pawing, kicking walls, cribbing, weaving etc.
Conformation- Back, hock, neck issues
Parasites, Insulin resistance, Dunking / Soaking, Choke, and more
See for yourself why Porta-Grazer is used all over the world by well-known clinicians, trainers, veterinarians,  and everyday horse people.
Disney World and Disneyland use Porta-Grazers for their horses. Zoos, race tracks, boarding facilities and veterinary clinics as well.
Portable and easy to take with you so your horse stays on the same feed routine no matter where they are. See more-> Traveling with Porta-Grazer
Drain plug makes soaking/rinsing hay easy!
Whether you have minis or drafts, there is a model for your horse..