XL Porta-Grazer™ Traveler
Feeder and waterer combo! Makes traveling with your horse easy! Keeps your horse on the same feeding routine when you are on the road. Holds 3 average size flakes Drain plug for easy clean up or when soaking hay.
The XL Traveler set saves you over $45 compared to if bought separately
See description below to choose hole size
Description
Porta-Grazer™ Traveler 3 pc. set includes: barrel, lid/9 gallon water trough combo and one grazing pan with the hole size of your choice (see below). The patented interlocking tab system allows the pan to be secured in the barrel while still partially extended above the barrel opening allowing for more hay. For best results the hay is not fluffed, simply place the flake flat against the inside barrel wall, push down folding the flake over to the bottom -creating an arch- then line up the keyhole in the pan with the arrow on one handle and drop in the pan and give it a spin. Takes only seconds to load!!
The tip resistant lid also serves as a 9 gallon water trough while traveling.
Safe, Clean and Sanitary way to travel
Approximate hay capacity = 5655 cu. in. = Approximately 3 average size flakes. Weight will vary depending on the compaction and moisture content of the hay.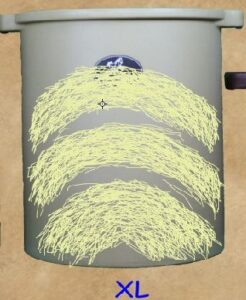 Hole selection guideline – Read all choices before making selection.
10 for pellets ONLY
8 holes for – feeding fine grass hay free choice.
6 holes for – ration feeding all horses, OR  when feeding alfalfa, timothy, teff etc.. Any hay that is overly compacted, dry, brittle or coarse.  Any hay taken from round or big square bales, and horses with under or over bites, or when soaking hay. Draft horses
Specifications – Rugged food grade (not recycled) polyethylene plastic, UV protected, rated to 30 deg. below zero. approx. 25 lbs empty, 25″ tall x 22″ wide, 3/4″ threaded drain plug.
When it comes to horses we all know that accidents can happen and that no feeder is 100% "horse-proof" however we have done our best to make the Porta-Grazer the safest feeder possible.
Additional information
| | |
| --- | --- |
| Hole Count | 10 Hole, 8 Hole, 6 Hole |