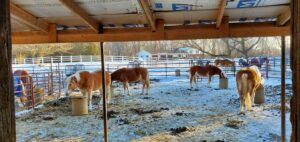 Herd Feeding Using Porta-Grazer
Horses must be fed a basic grass diet and be able to chew and thoroughly salivate their food in order to control their weight. When herd feeding horses they will establish a pecking order with the higher ranking members eating the sugar and leaving the less nutritious food for the others. The result of this behavior will be a variation of body scores and healthiness among the group.
When herd feeding using Porta-Grazer it prevents one horse from eating another horses food or a large portion of the sugar. This assures that each will receive equal value from the feed as well as an ample supply.
Place the Porta-Grazers at least ten feet apart allowing each horse their own space. If the dominant horse moves to an occupied Porta-Grazer the displaced horse calmly goes to the unoccupied Porta-Grazer (nothing gained nothing lost). Removing the competition for food will result in a calm peaceful herd with no wasted hay.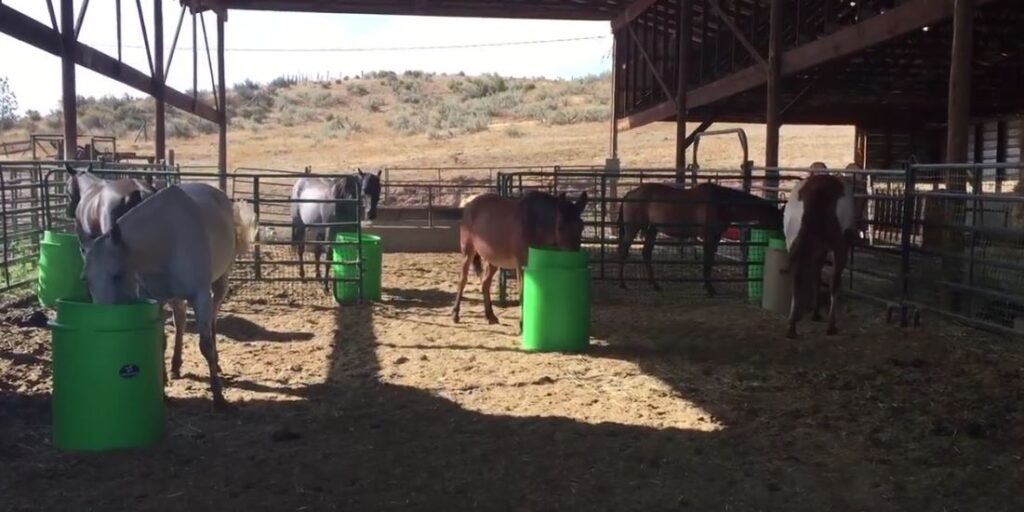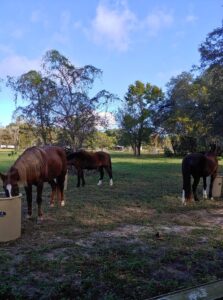 Renee Bagneschi
Customer
Jan 26, 2021---Love my Porta Grazers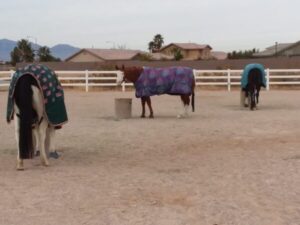 Tracey
Customer
 
10/21/15 Hi! I thought you might enjoy this picture of my herd and their Porta-Grazers! I didn't quite get everyone eating all at once since me walking into the middle of the paddock to take a picture was pretty interesting. About 15 seconds after this shot, both donkeys came over for some scratches.
 I have been using Porta-Grazers for two years now. I was hesitant about the initial investment, but I have never regretted it. They have held up great and I love not having to clean up huge piles of trampled, ruined hay from the paddock. Thank you for a great product! Cheers,

Tammy Limb
Customer
April 27, 2020 Our three mares love the Porta Grazers. Never have any problems. As stated when the boss mare moves from one feeder to another, the displaced horse just moved to the vacated feeder.